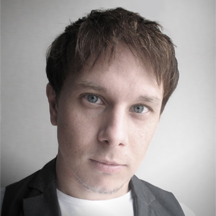 Paul Lacroix is a creator working in the field of interactive art and design, animation movies and projection mapping. He develops customized systems - hardware and software - to be used in original and unique experiences.
After graduating from University Paul Sabatier of Toulouse in France with a Master's Degree in Digital Image Engineering, he came to Japan where he has been living for more than 10 years.
As he had former experience in the field, his first work was in a Japanese company manufacturing 3D scanners. After a couple of years, he decided to get closer to creative works and began working at Polygon Pictures, a company producing CG movies. During that period, he really enjoyed working among modelers, animators and other CG creators, developing original software tools and plugins to be used in worldwide class productions. He had the opportunity to take part in amazing projects, including the creation of brain images for the new version of the cult movie
"Ghost in the Shell 2.0"
or also the development of original plugins used in the TV series
"Tron: Uprising"
.
In 2009, Paul Lacroix started to explore new ways to combine his programming skills with his interest in design and computer graphics. He developed real-time interactive contents using optical sensors to react to human movement:
"It creates a link with the audience that is not anymore a simple observer, but also becomes a full actor of the composition"
.
While he was working on a virtual fitting room for clothes, he grew a great interest into physics simulations: design a mathematic model to represent something real into a computer; precise enough to give a realist aspect, but simple enough to be able to run in real-time. At that occasion, he entirely wrote a virtual cloth simulation engine.
Another important project for him has been the development of a live 3D character system, during the renewing of Tokyo Joypolis for SEGA. It was a unique experience, involving not only CG creators, but also live stage experts and dance performers. The system has now been installed in Shanghai too.
Also active in the field of projection mapping, he usually acts as a consultant, creating optimum workflow to make it easy to generate 3D rendered images and project them in the real world. He took part in Seikei University projection mapping, the first big projection mapping event in Japan. He also worked on projection mapping at Caretta Shiodome and at Dockyard Garden.
His experience in the fields of human-computer interactions and projection mapping leads him to create the real-time facial mapping system that has been used in Project OMOTE (more than 5 million views in a single week) and Face Hacking (on Japanese television). More recently, he collaborated with the British artist Empara Mi to integrate facial projection mapping into the music video of her song The Come Down.
Paul Lacroix is a passionate person always eager to face challenging projects with other passionate people:
"I really enjoy working with other creators and artists. Starting from a dream, a vision; we talk about it and I found a way to turn it into something real"
.